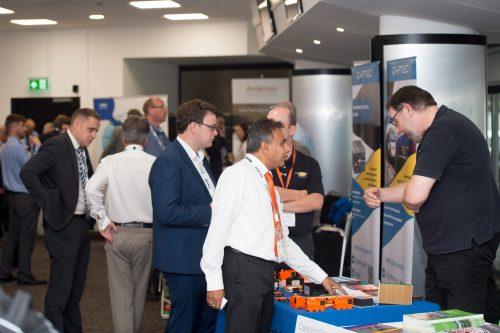 Rail Infrastructure Networking (RIN) hosted its biggest event since its inception two years ago, as RIN Derby saw more than 440 rail professionals attend from all over the country.
The event returned to Derby County's Pride Park following its first Derby event in 2017 – with almost double the number of attendees and many new exhibitors. Hosted in a city with strong ties to the rail technology industry, this location has always been extremely popular as professionals meet to stimulate business opportunities.
The event's organiser, Keven Parker of Jobson James Rail, said: "We are delighted to see how quickly RIN is growing. Since we founded the event in 2016, we have heard success stories from countless rail companies that have been able to foster fruitful partnerships through new connections made at RIN.
"RIN events are low cost, at just £150 to take an exhibitor table. The main cost is people's time, which is more than offset by the business development opportunities created through meeting so many innovative rail companies and buyers who want to work and deliver together. We expect that our next event in York in November 2018 will sell out in October – many tables have already been sold since Thursday's success at Derby."
RIN events are priced to cover the events' costs and administration only and are not operated by a large event company. They are organised by Jobson James Rail, which offers specialist insurance solutions for companies and individuals in the rail sector. It is one of the UK's leading free networking events for the rail industry, with quarterly events held across the UK. The events were initially created for Jobson James Rail's clients to meet up and network, but they have grown considerably every time.
The next event will be held at York Racecourse on 22nd November, with the first event for 2019 already planned in London on 28th February.
To book an exhibitor table for RIN York, please click here. To register your details for a free attendee place, please click here.