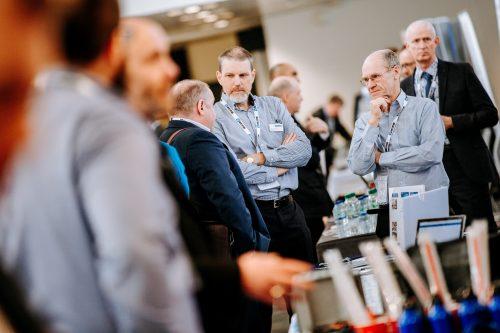 Rail Infrastructure Networking (RIN) continued on its series of successful events after hundreds of people attended the latest edition in the Business Design Centre, London.
The events, which are jointly organised by rail insurance brokers Jobson James Rail and the Railway Industry Association, are designed to bring smaller businesses together to meet with each other and larger contractors in order to stimulate business development opportunities.
Hosted over various UK locations throughout the year, RIN creates a personable atmosphere where rail professionals are given the time to develop positive relationships with others.
Hundreds of people attended the event in London, with over 80 exhibitors. RIN will now move to the North West to the Wigan DW Stadium on Thursday May 9th. Major investment is due to take place in the North West over the next few years, so this is an opportunity to speak with businesses ahead of an exciting time in rail.
The event joint organiser and lead sponsor, Keven Parker, Director at Jobson James Rail, said: "RIN continues to steam ahead in developing opportunities for businesses of all sizes at an affordable price. Considering the cost is kept low for our events, it ensures that people can use a good amount of time to foster new partnerships where they see a return on investment for exhibiting. It was great that Darren Caplan, Chief Executive of RIA and Robert Hodgson of Rail Forum Midlands launched their joint membership initiative at today's event and there was a lot of interest amongst the exhibitors.
"Many of those who attend always feed back that the atmosphere is friendly, collaborative and open which makes our events a little different to the larger national events. We are now encouraging businesses to sign up to the Wigan event in May and book an exhibitors table early to avoid disappointment. Due to the growth of RIN, Wigan will be the first event where the price will attract VAT and we are asking for exhibitors to only pay after the start of the new financial year."
RIN events are priced to cover the operating costs and are not profit orientated to keep exhibitor fees low. Jobson James Rail is a specialist insurance solutions provider acting for over 220 railway companies across the UK. RIN will also return to Derby in September and York in November 2019.
Exhibitor spaces for Wigan are now available to book on the RIN website at a cost of £175 plus vat, look us up at www.rinevents.co.uk
Its first Rolling Stock event, "Rolling Stock Networking" will be on Thursday 11th July at the Derby Arena and the event is 90% booked up for exhibitors already. Please visit www.rsnevents.co.uk . The lead sponsor is Jobson James Rail.