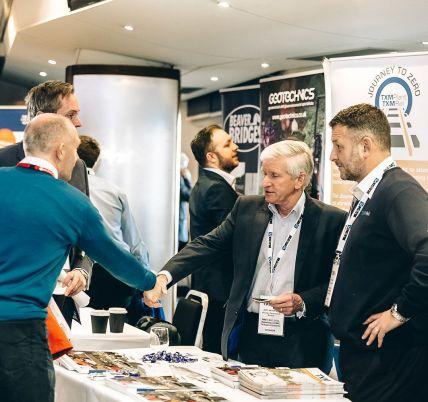 Rail Infrastructure Networking's (RIN) first event in Derby was the biggest event yet, breaking records as exhibitor and visitor numbers hit new heights.
The event attracted over 70 exhibitors and more than 250 people from 160 railway companies from all over the UK who enjoyed an invaluable opportunity to network, strengthen business relationships and establish new business connections.
Keven Parker, Director of Jobson James Rail, said: "Yet again, RIN has beaten the high standards set by previous events. This was our 6th event and again we grew by 50%. We had a record number of exhibitors and visitors, and a fantastic contribution from our event sponsors. It was also very good to see most of the Network Rail Principal Contractors in the room, we had a high number of buyers. When I spoke to the exhibitors they have all obtained valuable sales leads at our events. RIN events are low cost, at just £100 to take an exhibitors table. The main cost is peoples' time, which is more than offset by the business development opportunities created, and this is why we are growing so quickly. We expect that our next event in London in February 2018 will grow again and will be fully sold out in January."
RIN events are priced to cover the events costs and administration only and are not operated by a large event company, they are organised by Jobson James Rail, which offers specialist insurance solutions for companies and individuals in the rail sector. It is one of the UK's leading free networking events for the rail industry, with quarterly events held across the UK. In 2018, there will be RIN events in London, Crewe, York and Derby. RIN is the lowest cost way of advertising your rail business to the rest of the rail industry – it is a roomful of innovative rail companies and buyers who want to work and deliver together.