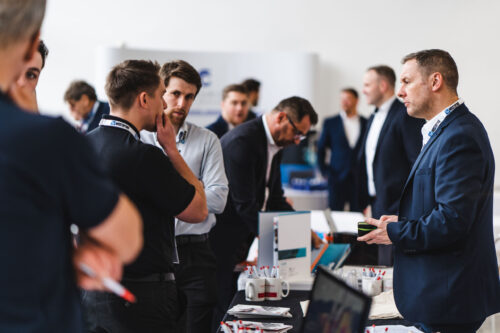 Rail Infrastructure Networking's event in York proved a resounding success after returning to the city for the first time since the pandemic began.
The event, held at York Racecourse, saw more than 80 exhibitors showcasing the very best the industry had to offer. Over 400 visitors attended, with the day enabling the sector's supply chain to rebuild connections with top decision-makers and collaborators. At least 200 railway companies sent representatives.
Among the major names in infrastructure attending were Alstom, Amey, Balfour Beatty , BAM, DB, Fraser Nash, Hitachi, Hitachi ABB, Indian Railways, Murphy, LB Foster, LNER, Network Rail, Northern, Serco, Siemens, Speedy, Story Contracting, Unipart, VolkerLaser and VolkerRail.
Rail Infrastructure Networking (RIN) is organised jointly by Jobson James Rail and the Railway Industry Association. In addition, crucial support is given by Rail Business Daily, The Permanent Way Institution, RSS Infrastructure, PRB Consulting, TechnoRail, Selectequip, PBH Rail Ltd, TBAT Innovation, Network Rail, and Rail Forum Midlands.
In turn, RIN is proud to help Railway Children, using the networking events to raise funds and the charity's profile.
The first RIN was held five years ago. Since then, its organisers have seen consistent high attendance at its regular events in London, Wigan, York and Derby. However, COVID-19 meant a two-year break between RIN events in York. But any concerns this might have put a stop to RIN's momentum were short-lived.
Director of Jobson James Rail, Keven Parker, said: "After two years away from York, there was a fantastic turnout. The footfall on the day was excellent. Not only were the numbers good, but the exchanges were meaningful – we saw all the important faces here who work in infrastructure.
"The important thing we believe is to get businesses together and get them talking. This focused approach means costs are competitive, allowing companies of all budgets to take part. We think that has really helped during what has been a testing time for the sector.
"The feedback we got from our exhibitors was overwhelmingly positive: leads were developed, and deals struck on the day.
"It was no surprise the industry was ready to do big business post-lockdown, but it was still a wonderful sight to see. Rail Infrastructure Networking is an event created for the industry by the industry, so it means a lot when it continues to go from strength to strength.
"Rail infrastructure businesses are fast proving they have the tenacity to build bigger and better post-pandemic. We are proud that this event helps that to happen."